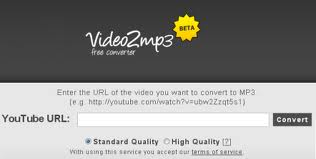 Come sapete su Youtube ormai si trova di tutto, dalle canzoni, alle interviste fino ad arrivare alle lezioni universitarie.
Forse non sapete però che esistono molti servizi in grado di "estrapolare" l'audio dai video, offrendo poi la possibilità di scaricarli in formato mp3 sul proprio pc.
Uno dei migliori servizi in questo senso viene offerto da Video2mp3, un sito che potete raggiungere da qui:
Il funzionamento è molto semplice:
1. scegliete su Youtube un video del quale volete l'audio;
2. copiatene il link dalla barra del vostro browser ( ad esempio http://www.youtube.com/watch?v=Z71LKBE-5y8 );
3. incollate il link su Video2mp3 sotto la scritta "Enter the URL of the video you want to convert to MP3";
4. scegliete se Standard quality o High quality e cliccate su Convert;
5. ora aspettate che Video2mp3 converta il video in un file mp3;
6. vi si aprirà una finestra di pubblicità, voi dovete cliccare in alto a destra su "Continue to your download";
7. ora cliccate su > > Click here to download your converted file < < e poi su Download mp3.
Il gioco è fatto, ora avete sul pc il file mp3 del video, pronto per essere ascoltato!
N.B. Scaricare file mp3 di video protetti da copyright (come canzoni) è vietato dalla legge. Questo servizio è legale a patto che vengano convertiti in file mp3 video che non sono protetti da nessun diritto di autore.